Sponsorship
The Traffic Club of Chicago welcomes sponsorship from regional and national companies that are engaged in the transportation industry and its related sectors. Sponsors choose from four levels of participation.
To sign up for a yearly sponsorship, please contact TCC staff by email at staff@traffic-club.org or by phone at 630-529-1333.
Click here for a printable version of the yearly sponsorship chart.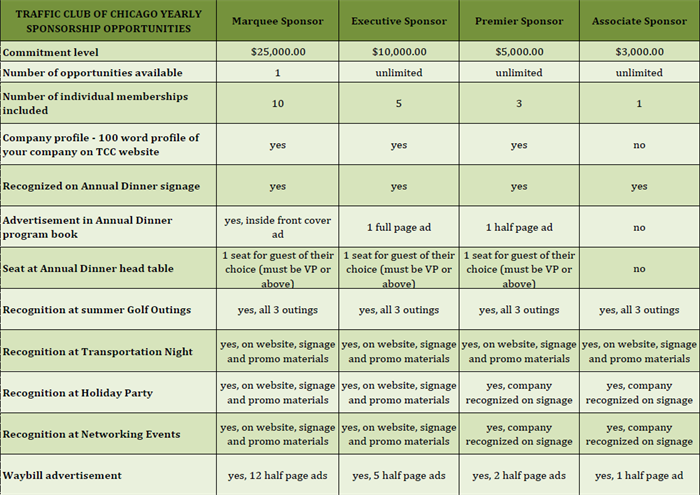 ---
Thank you to our current Yearly Sponsors!
Premier Sponsor

Nussbaum Transportation
For over 70 years, this philosophy has guided our operations. We've learned that the best way to deliver on our ideals is to hire the right staff, partner with the best customers and act with integrity. Trusted relationships are at the center of our success.
Founded with a single truck in 1945, Nussbaum Transportation has evolved through numerous market changes. Industry insight, innovation and perseverance have streamlined us for success and been key to the growth of a strong organization positioned to meet any challenge.
Associate Sponsors

Freeborn & Peters, LLC
Freeborn & Peters LLP is a full-service law firm headquartered in Chicago, with international capabilities. Freeborn & Peters is always looking ahead and seeking better ways to serve its clients. It takes a proactive approach to ensure its clients are more informed, prepared and able to achieve greater success - not just now, but also in the future. While the firm serves clients across a range of sectors, it has also pioneered an interdisciplinary approach that serves the specific needs of targeted industries. Freeborn & Peters is a firm that genuinely lives up to its core values of integrity, caring, effectiveness, teamwork, and commitment and embodies them through high standards of client service and responsive action. Its lawyers build close and lasting relationships with clients and are driven to help them achieve their legal and business objectives.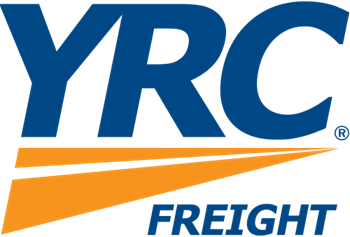 YRC Freight
YRC Freight is the original less-than-truckload carrier that has been responding to customers' needs to efficiently move freight across a region, across our nation, and beyond for over 90 years. We have comprehensive coverage throughout North America, including cross-border to and from Canada and Mexico. With a broad portfolio of nationwide standard, guaranteed, expedited and specialized services, YRC Freight helps increase the flexibility and reliability of your supply chains.