Secretary - Kristina Chambers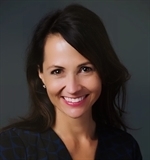 Kristina Chambers
TTX Company
Director Operations Strategy and Analytics
Kristina Chambers is the Director of Operations Strategy and Analytics at TTX Company in Chicago, Illinois. TTX is North America's largest provider of railcars, and rail related services. She leads a data science and strategic planning team to design, develop and implement innovative solutions that help optimize railcar maintenance and provide enterprise level insights for business analytics and process improvement. Prior to joining TTX in 2013, she held various senior leadership positions in Finance at GE across multiple business units in the U.S. and Europe over 12 years. She is fluent in German and worked in Frankfurt, Hamburg and Munich.
She holds a BA in Economics from the University of Illinois at Urbana-Champaign and a MBA from Northwestern University's Kellogg School of Management. She is a member of Midwest Association of Rail Shippers and a mentor for the Intermodal Association of North America Future Leaders Program
Kristina lives in a Chicago with her husband Tom and four daughters. She enjoys running, skiing, hiking and traveling.