Vice President - Jason Olinger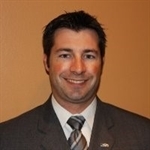 Jason Olinger
YRC Freight
Director – Sales & Operations Exhibit
• TCC Vice President
• TCC Education Chairman
Jason is a dynamic and accomplished leader with a strong background in the transportation industry. His more-than 15 years in the industry include experience in supply chain solutions, operations, sales & marketing, tradeshows, and training & development.
Jason appreciates the need for lifelong learning, and continuously seeks out opportunities to acquire additional knowledge and skills. His servant-leadership approach to all aspects of business is the foundation for forming consultative partnerships that drive improved results and greater organization success.
He holds a bachelor's degree in communications with an emphasis in public speaking/communications from Southern Illinois University.
Jason lives in the northwest suburbs of Chicago with his wife Agatha and two children, Dylan & Brianna.
He enjoys volunteering in his community, including serving in various board positions for the local park districts. He also enjoys coaching his children's youth football and basketball teams.