President - Bryan Vaughan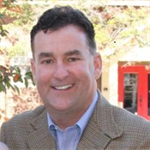 Bryan Fitzpatrick Vaughan
VTG Rail
Regional Vice President of Sales
• TCC President
Bryan is an accomplished executive with diversified management experience in most aspects of sales, marketing strategy & service solutions related to the logistics and transportation industry. Before joining VTG Rail Leasing in 2016 as Regional Vice President of Sales, he'd held the role of Commercial Leader at GE Capital Rail Services for 10 years; where he was engaged in railcar leasing, financing and service solutions, in addition to 15 years of experience working with various Class I railroads managing diverse teams of sales & marketing professionals.
He's been active with the Traffic Club of Chicago since the early 1990's and currently holds the role of club Vice President. He's held various committee roles within the club and has been the Chairman of TCC's Scholarship Committee for several years. He's been involved with the Midwest Associations of Rail Shippers and is currently executive board member.
Bryan holds an MBA from the University of Chicago and received a Bachelor of Science degree from Illinois State University. He also studied International Business Economics as an exchange student throughout Russia.
Bryan lives in the Chicago metro area with his wife and two children ages 10 and 3.