Upcoming events
113th Annual Dinner & Golf Outing Update

Due to COVID-19 concerns, the Annual Dinner & Golf Outing has been postponed to September 16-17, 2020. For full details, click here.
We thank everyone who has already registered for the events. TCC will automatically transfer your registration to the new dates.
If you have any questions or concerns, please contact Club Staff by email at staff@traffic-club.org or by phone at 630-529-1333.

---
A Message from the TCC Board of Directors

On the behalf of the Board of Directors of the Club, we would like to inform our members that our friend and fellow board member, Dan Wallace, is battling stage 4 cancer. He left for Israel on 12/1 to get treated with an innovative gene modification procedure that does not yet have FDA approval in the USA. The Traffic Club of Chicago is non-profit organization with three core pillars: Education, Scholarship and Fellowship. Fellowship and Networking are central to our mission as an organization and part of our core values. Let's make sure we reach out to fellow members not just for professional networking but also to support our friends in their time of need.
We kindly ask that you consider donating what you can to his GO FUND ME page. Any amount will be greatly appreciated by Dan and his family.
https://www.gofundme.com/f/zhg63-funds-needed-for-life-saving-cancer-treatment
---
About Us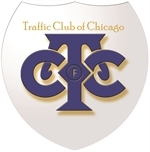 The Traffic Club of Chicago is your place to make connections with other dynamic leaders in the supply chain, logistics and shipper communities throughout Chicagoland. Dedicated to providing you with insightful and relevant information about your business, the Traffic Club serves its membership with a wide range of programs and resources.
TCC Members
---
Thank you to our Sponsors