Transportation & Logistics Customer Forum
Nov 9, 2023 at 8:00 AM
DePaul Center
1 E. Jackson Blvd.
Room 8005
Chicago, IL 60604
View on map
---
Description

Don't miss one of the Traffic Club of Chicago's marquee education events! The Transportation & Logistics Customer Forum (formerly the Business Development Symposium) is quickly approaching - make sure to mark your calendar and plan join us.
Registration is now open! Click "Register" above to reserve your spot.
Brought to you by our generous sponsors:
---
Agenda | Panel Details | Plenary & Keynote Details | Speakers & Panelists | Registration | Sponsorship
---
Tentative Agenda
8:00 AM - 8:45 AM - Registration, Breakfast & Networking
8:45 AM - 9:00 AM - Welcome, Opening Remarks & Safety Briefing
9:00 AM - 9:30 AM - Keynote Speaker (Geoff Anderman, President & COO, STG Logistics)
9:30 AM - 10:15 AM - Shipper Panel
10:15 AM - 10:30 AM - Coffee Break
10:30 AM - 11:00 AM - Plenary Speaker (Brian Bowers, The Ohio State University)
11:00 AM - 11:45 AM - Business Leader Panel
11:45 AM - 12:30 PM - Plenary Speaker (Sarah Ahern & Jonathan McKay, Path Growth)
12:30 PM - 1:30 PM - Lunch & Table Topics
1:30 PM - 2:15 PM - Technology Panel
2:15 PM - 2:30 PM - Coffee Break
2:30 PM - 3:15 PM - Marketing the Modes Panel
3:15 PM - 4:00 PM - Business Development Panel
4:00 PM - 4:05 PM - Closing Statements
4:30 PM - 6:30 PM - Informal Happy Hour at Nearby Bar/Restaurant
Click here to download a more detailed version of the tentative agenda.
Please note: all times listed are tentative and may be adjusted prior to the event.
---
Panel Details
Shippers Panel
Moderator: Bill Cassidy, Journal of Commerce
Panelists: Julie Hurst, Owens Corning
Tyler Jokerst, ND Paper
Robert Morris, WK Kellogg Company
Joseph Thomas, PetSmart
This panel brings together marketplace experts from within the supply chain. The panel will explore the challenges and opportunities faced by shippers in today's rapidly evolving business landscape. We will gain insights into their strategies for enhancing their customers' experience. Our moderator will guide the discussion and pose questions that delve into topics such as delivering on promises, their customers' experience, integrating customer/supplier relations and the utilization of emerging technologies. By assembling this panel, we hope to foster knowledge, share and inspire innovative approaches to enhance the customer experience (CX).
Business Leader Panel
Moderator: Brian Bowers, The Ohio State University

Panelists: BJ Boldog, R&K Logistics

Jim Hertwig, FYX Fleet

Nancee Ronning, Forward Air

Mark Yeager, Redwood Logistics

This panel will respond to their role in their customers, customers experience. The panel will cover a range of topics including sustainability, diversity, safety, profitability and technology adoption that will address CX. Thought provoking questions will explore the panelists' perspectives including challenges and innovative solutions. They will provide insights into the strategic decision making that is driving their customers' experience.
Technology Panel
Moderator: Andrew Gulovsen, Hubtek
Panelists: Kristina Chambers, TTX Company
Matt Furnish, Highway
Brent Hutto, Truckstop
Sergey "CJ" Karman, Ezlogz ELD
Sasha Seymore, Learn to Win
Dennis Van Horn, DriveWyze
This panel will focus on the role that technology plays for transportation and logistics professionals working within their supply chain network. Representatives from leading providers will talk about advancements and their impact on their customers' experience. Panelists will share real world examples, offering insight on how technology can streamline processes, enhance visibility, improve efficiency and drive overall performance. The moderator will guide a discussion, posing questions about emerging technologies, integration of existing systems, and the outlook for the industry. This session will empower attendees and inspire them to leverage technology to gain a competitive advantage.
Marketing the Modes Panel
Moderator: Scott Case, Position : Global

Panelists: Jeff Brashares, CMA-CGM America

Matt DiPilato, Arka Express

Karen Galena, First Logistics

Stefan Loeb, Norfolk Southern

Todd Thompson, MODE Global

Logisticians are bombarded with modal choices. Instead of beating each other up (to get more business) providers would be better off understanding what is best for "the customer" and how that benefits "the customer's customer." This panel will explore the modes and their role in transportation, distribution, warehousing, logistics, and the supply chain. Representatives from different modes will differentiate from among the various options and discuss their unique advantages, challenges, and emerging trends. Panelists will share how different modes can be effectively integrated within the supply chain and talk about mode selection, strategies, shift opportunities, multimodal solutions and overcoming mode specific challenges. The goal is to broaden perspectives, consider options and inspire innovative approaches to diversify on behalf of their customers' customers.
Business Development Panel
Moderator: Jennifer Karpus-Romain, Transportation Marketing & Sales Association (TMSA)

Panelists: Jimi Allen, Bureau Gravity

Cathy Cain-Blank, The WDG Agency

Kelly Grigus, BWS Logistics

Nora McCarthy, Dale Carnegie

Valerie Pierucci, WIZ Logtec Solutions, Inc.

This panel of sales and marketing professionals (providers and implementors) have the responsibility of staying current with "the latest" strategies and tactics that make business sense within the transportation and logistics marketplace. Their job is to deliver success for their brand so that the effort of their organization provides an appropriate return. The goal is to offer the customer and then the customer's customer "the best" of all available options. The question is how does the provider of services differentiate their uniqueness when, from the buyers' perspective there doesn't seem to be a difference at all? So, what does it take to "win" in today's competitive, contentious and sometimes adversarial marketplace? With all the options in the marketplace, how will "my" supply chain win…or will it rust?
---
Plenary & Keynote Details
"Legacy Driven Leadership"

Presented by Brian Bowers of The Ohio State University Fisher College of Business
The speed, complexity and volatility of today's business environment has reached unprecedented levels. Leading successfully in this reality requires new skills, knowledge, and capabilities. During my segment I will share a concept called Legacy Driven Leadership that will enable you to not just survive but thrive in your personal and professional lives.
Legacy planning requires you to create a written, measurable plan for how you want to perform in each key area of your life. The actions built into the plan will determine how the important people, institutions and causes in your life will be impacted by your engagement, decisions, and values. Legacy Driven Leadership is the result of the plan you create within your work domain.
Attracting, developing, and retaining talent has become a chronic challenge during the Covid era. I am intrigued by how leaders across industries, geography, gender, and demographics are trying to address this challenge. The majority are responding through enhanced focus and execution of existing manpower strategies. When I ask how it's going, the common answer is not well. The few that are thriving have changed how they engage, communicate, and develop their talent. Integrating the values, guiding principles and priorities from your legacy plan into your business plans will produce surprising and powerful results in your team and the growth that they create.
"Learn & Turn: How Exceptional Companies Grow"
Presented by Sarah Ahern & Jonathon McKay of PATH Growth
Exceptional companies have outperformed the S&P 500 by nearly 1200% over the past 15 years. How do they hit such a crazy growth number? They used data to learn more about their customers, their employees and the changing tides of the market. And they turn it into action faster than the competition.
Change gets faster by the second – it seems like as soon as we have our feet under us another change has hit. For some companies, change can be a negative, overwhelming experience. For our clients and businesses like them, change is an opportunity.
What is the difference between painful change and opportunity? A crystal-clear focus on:
Who your customers are
What they want
How you can uniquely position your company in the market
In this session, Sarah and Jonathon will share PATH's "learn and turn" model, giving you ways your company can use data to build the only long-term competitive advantage there is - learning more about the market faster and turning it into action faster than the competition.
More details coming soon...
---
Speakers & Panelists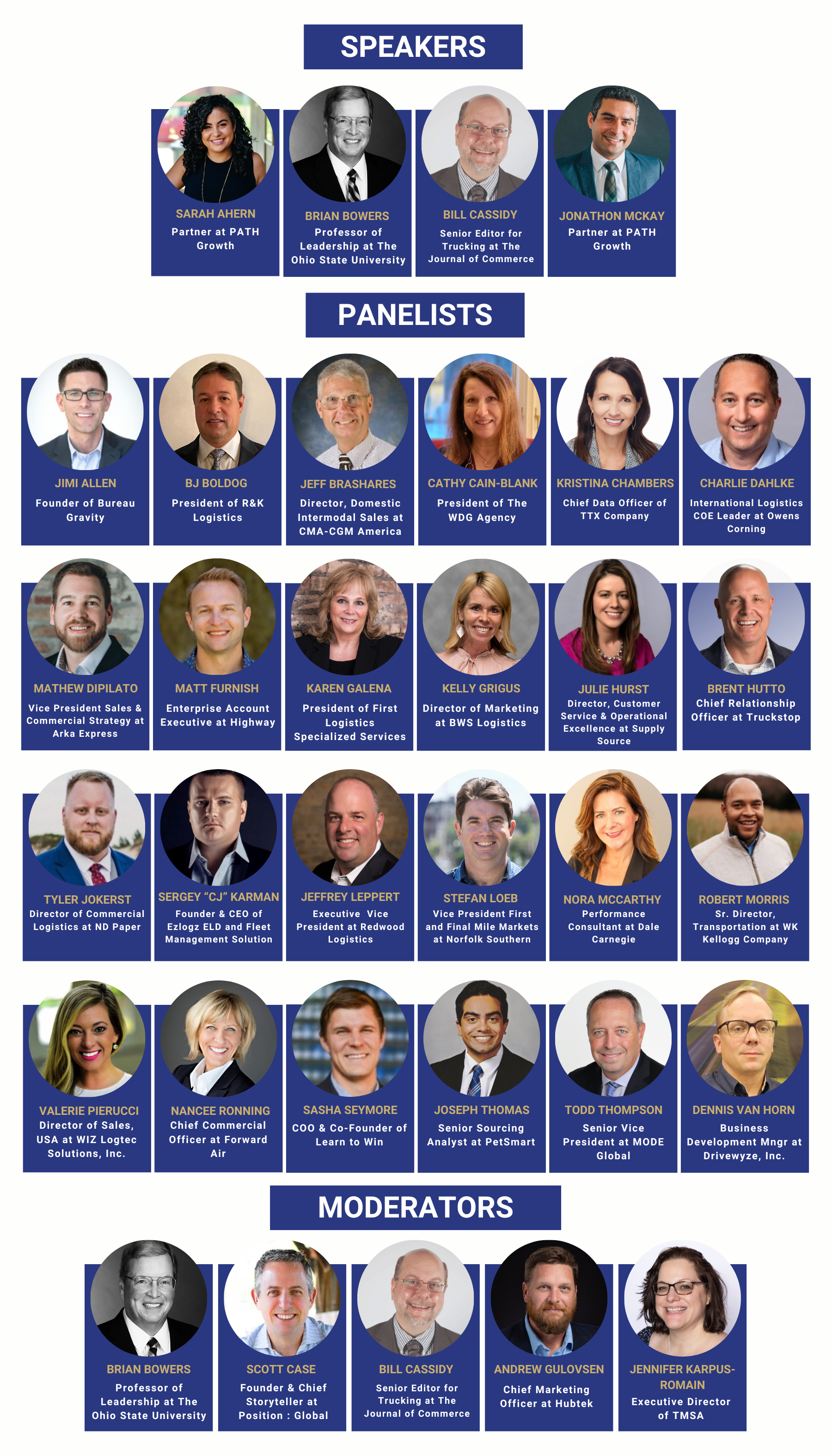 ---
Registration Fees
Early Bird Special
(through Sept. 15)

Regular
(after Sept. 15)

TCC Members & Guests

$150

$200

Non-members

$250

$250

Students/Educators

$50

$50
Not a TCC member? Join now to take advantage of discounted rates.
---
Sponsorship Opportunity
The Traffic Club is always looking for ways to give our member's companies an opportunity to get some recognition. One opportunity the Club offers is the chance to sponsor an event hosted by the Club. If your company is looking for a way to support the Club, and also get a bit of recognition in front of a group of industry peers, this is your chance!
For the Transportation & Logistics Customer Forum, we are offering the following Sponsorship Opportunity:
Event Sponsor - $1,000
Includes the following:
- 2 tickets to event
- Company recognition on sign near registration desk
- Company recognition on sponsor banner on TCC website
- Company recognition in email promotions for event
- Company recognition in edition of The Waybill following the event
Interested in sponsorship? Contact staff@traffic-club.org today!
Back to agenda